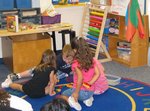 | | |
| --- | --- |
| Teachers | Voice Mail |
| Mrs. Sonya Casarotto | 204 |
| Mrs. Naomi Kilray | 202 |
| Mrs. Pati McAndrew | 203 |
| Mrs. Patricia Borjestedt | 201 |
Kindergarten is a year of tremendous growth and learning. A major focus of kindergarten, especially during the first half of the year, is social and emotional development and the establishment of good work habits. Children learn to follow directions the first time being asked, to get along with others, to wait for their turn and to be part of a large group. This social development and learning is key to a child's academic learning and social success. In addition, good work habits are stressed. Taking time and doing one's best are important concepts introduced in the beginning of the year. A great deal of emphasis is also placed on taking responsibility for one's actions and accepting appropriate consequences. A very important focus of Kindergarten is to instill a love of learning and to establish a positive feeling about school.

Kindergarten students explore various topics and themes througout the year. Some examples are:
| | |
| --- | --- |
| Four Seasons | All About Me and Family |
| Colors and Shapes | Stories from Long Ago |
| Animals and Plants | The Five Senses |
For more specific information, please refer to the District's Kindergarten Curriculum Brochure.
Helpful websites for parents and students:

Parents and/or guardians should preview all web sites before using them with children.
Please note some plug-ins may be needed for web sites to run correctly.